MetaTrader 4
The MetaTrader 4 terminal is a perfectly equipped traders workplace that allows to trade in the financial markets (Forex and Futures). It is a professional Forex trading software which is prefered by both beginners and experienced traders. MetaTrader 4 gives traders accessibility to advanced charts in order to make appropriate decisions and take the lead in the Forex market. It provides the necessary tools and resources to analyze price dynamics of financial instruments, make the trade transactions, create and use automated trading programs (Expert Advisors). It represents the all-in-one concept and is the most popular trading terminal in the world.
Fxglory MetaTrader 4 key features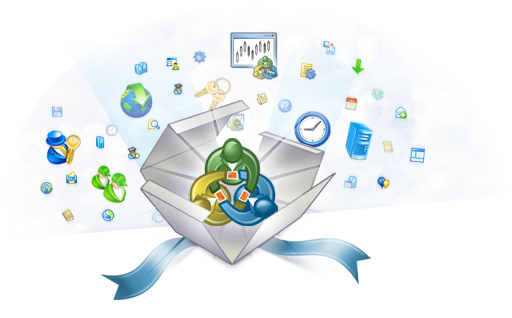 Customizability and Comfortability
Traders are able to adjust their trading environment quite as they need and want.
Reliability and Security
In MetaTrader 4, all data exchange between the client terminal and the platform servers is 128-bit encrypted. This ensures the security of trade transactions.
Execution technology
All types of orders are available in MetaTrader 4, and traders can use market orders, pending and stop orders, as well as the trailing stop. Also, it supports different types of operation execution including instant and market execution.
Automated trading
You can create your own Expert Advisors or use the developments of other programmers to automate almost any trading strategy.
Analysis
MT4 has all a trader needs to accomplish a technical analysis: a number of impressive analytical tools, advanced charts,  trend lines, nine timeframes available for each financial instrument and numerous indicators to help simplify the analysis.

These advantages have made MetaTrader 4 the most popular trading platform in the world and that is why hundreds of brokers choose MetaTrader 4.


Fxglory WebTrader
When you register with Fxglory you get access to the downloadable, web-based and mobile versions of trading platform.
Webtrader is an online trading platform for trading directly through a browser without installing an application on your computer. Fxglory offers its clients webtrader with a convenient, comfortable trading environment and powerful features that enables them to trade professionally.
With Fxglory web-based platform you will have the access to different kinds of features such as depositing and withdrawing funds, opening and closing positions, viewing your trade history with the convenience of instant start up from any browser which is accessible anytime and anywhere.
Fxglory WebTrader key features
No download and installation necessary

Instant trading, pending orders
Over 30 tradable currency
User-friendly and customizable trading environment
Same login details as in MetaTrader 4 account
System requirements
Accessible through all web browsers
Desktop trading platform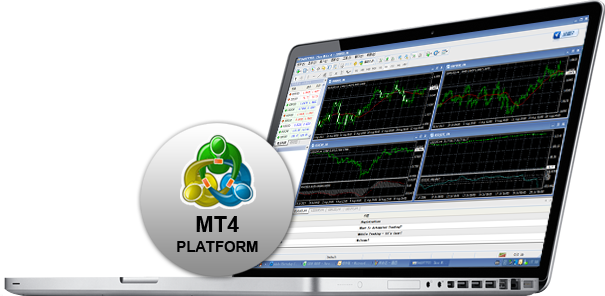 MetaTrader 4 combines an accessible, user-friendly interface with a wide range of powerful functions, making it a highly flexible platform. It offers a number of impressive analytical tools. There are nine timeframes available for each financial instrument that provide detailed analysis of quote dynamics. More than 50 built-in indicators and tools help simplify the analysis, enabling to determine trends, define various shapes, determine entry and exit points, etc. Besides, one object can be applied over another one, which comes in very useful in various trading systems. Need more? You can also print charts of any instruments and conduct "on paper" analysis.
Other precious advantages of the MetaTrader 4 terminal are as follows:
Advanced integrated charts
One-click trading
Full range of stop and limit orders
Multi-language support
Internal email system
Effectiveness and performance
System and trade alarms
Here you can download MetaTrader 4 as a desktop platform:

System requirements
Windows XP (with Sp3), Windows Vista, Windows 7, Windows 8
Mobile trading platform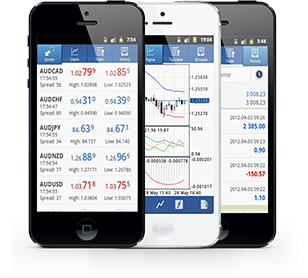 Mobile trading allows you to manage your accounts from portable devices like smartphones, pocket and tablet PCs. In MetaTrader 4, mobile trading offers a great variety of analytical options and graphical display of quotes in addition to the complete trade account management.
Using mobile terminals in daily activities offers a convenient way to keep up with your accounts when you don't have access to a desktop computer. In this situation mobile platforms are really indispensable, as their possibilities are no different from the desktop version of the MetaTrader 4 trading platform. Wherever you are, you can keep abreast with the market's latest developments, analyze them and perform trading operations at any time.
The MetaTrader 4 mobile platform is your daily assistant and irreplaceable working tool. Stay mobile, trade in financial markets, get trade information and analyze it 24 hours a day with MetaTrader 4.
MetaTrader 4 for iPhone/iPad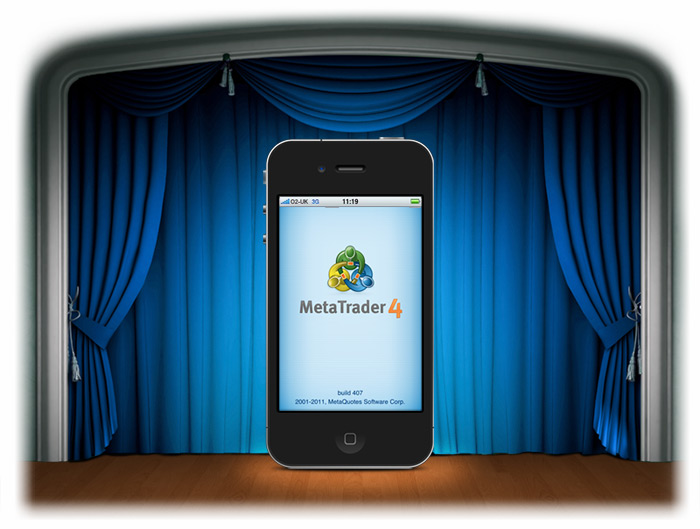 MetaTrader 4 gives you the possibility to trade from your mobile device. So if you have an apple device: iPhone or iPad, you can download MetaTrader 4 compatible with your device. Fully functional Forex trading, efficient arsenal of the most critical technical analysis tools (30 technical indicators) and ease of use in everyday activities – all these features are available in MetaTrader 4 for iPhone/iPad. You can easily access financial markets from anywhere in the world, at any time and for free. You can feel the joy of comfortable and flexible trading with this user-friendly platform of mobile version.
MetaTrader 4 key features for iOS :
The full set of trade orders, including pending orders
Support of all types of trade execution modes
Toolbox window to display orders, trade history, emails, news and journal
4 charts are displayed at once in one window (for iPad version)
Real-time zooming and scrolling of charts
The 30 most popular technical indicators:
9 timeframes: M1, M5, M15, M30, H1, H4, D1, W1 and MN1.
Offline mode (quotes and charts)
User friendly interface
Minimum traffic
Download MetaTrader 4 to your iPhone or iPad and trade Forex anytime from everywhere in the World!

System requirements
Compatible with iPhone, iPod touch and iPad. Requires iOS 4.0 or later.